Are you still not sure you want to move your databases and other business sensitive information to the cloud?
Afraid you will lose control of critical files or miss key elements of compliance regulations? Concerned about the cost of cloud services?
If you are one of the 3,000 small to mid-sized American businesses that lists data security as a top priority for IT systems, it might be time to get over your reluctance. Do a reality check on your actual needs for data collection, storage and transmission and on your assumptions about cloud services.
One of our Digital6 Technologies specialists would be pleased to review the specific IT requirements of your company and recommend practical, affordable, user friendly options.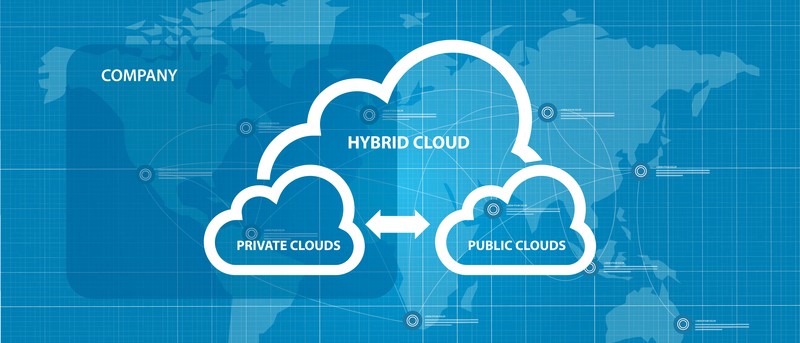 Hybrid Cloud Solution
Hybrid cloud services are a popular choice with many SMBs. Some of your data remains on-premises and some is stored in the cloud. You make the decision. And, always, you and your employees are in control of securing and using your data, of the actual users and of the access, both on-prem and in the cloud. After all, today's best blend might not be the most effective tomorrow. That's okay. You can change it.
The benefits of a hybrid solution are usually an easy sell:
Your server on an Azure platform can respond immediately to temporary fluctuations in data flow or a steadily growing workload.
If there is an on-premises database outage, you can quickly access the hybrid backup.
You maintain control of the entire process from data collection and storage to access and use.
Capital costs for on-premises hardware are predictable; operating costs in the cloud are pay-as-you-go only for the services you need. You can use the cloud as a workspace for developing and testing databases, reducing onsite hardware and labor costs.
Digital6 Technologies Solutions
Digital6 Technologies specialists will show you that you don't have to make huge, dramatic changes to your IT procedures to install a hybrid solution. Perhaps, you want to install technology that mimics and enhances a fairly efficient paper system. Or, you hope to incorporate your existing system into a cloud service. Your ROI will be obvious, starting immediately with a pay-as-you-go cloud service.
The Digital 6 team is trained, certified and experienced in customizing, deploying and training on two major hybrid cloud services. Review this summary of the Microsoft Azure and the Amazon Web Services (AWS) options.
Microsoft Azure provides a feature rich platform that many users consider the perfect cloud platform for the efficient SQL Server 2017 or any other server you are currently using. Add Azure Stack to update and extend legacy applications so they are cloud ready. This tool is particularly useful for field work where there is poor connectivity or on the shop floor when there is a high latency factor.
The Azure package is an excellent hybrid solution that can be described as:
Azure is flexible enough to accommodate whatever data remains on-premises and whatever moves to the cloud. It can handle both new architecture and legacy apps. Cloud migration was never faster, easier or more successful with validation of all cloud apps. Not in a hurry? Move at your own pace for migrating files, doing a few at a time or moving complete datacenters
As an extension of Azure, Azure Stack builds and deploys apps using a consistent framework, processes, and tools across cloud and on-premises environments. Such reliable consistency ensures compliance with government and industry regulations, and reduces risk across the entire technology.
Azure ensures a hybrid integrated solution that includes all applications, data and processes, allowing you exceptional speed and agility. Any new Azure products will always integrate into the existing systems.
End-to-end visibility of your infrastructure with powerful search, query and analytics, everything you need for file management and productivity.
Zero downtime while migrating a complex SQL server based app. Integrated tools for fast disaster recovery, if necessary.
A single sign-on experience through Azure Active Directory guarantees secure access across on-prem and cloud apps from anywhere, including SaaS applications such as Office 365, Drop Box and Salesforce. The integrated hybrid solution means faster detection of and response to security threats.
Even SMBs have found that moving their data information systems up into the cloud is a natural, seamless extension of their existing, on-premises technology. They retain what information they want onsite and send the rest of the databases and other business critical files into the cloud where they are stored securely and are readily accessible, as needed. 
Digital6 Technologies specialists can show you how Amazon Web Services (AWS) is able to provide a hybrid cloud solution just right for your business.
A successful hybrid solution is all about integration of the many key elements of cloud architecture.
Integrated Data
You decide what data is stored where. Whether the files are on-premises or in the cloud, whether they are used daily or archived, you want the
AWS
guarantee of secure storage and ready accessibility. Look at the tools available:
AWS Storage Gateway connects directly to your local infrastructure to provide a seamless service between on-premises environments and the AWS cloud. It is particularly effective for work in remote offices.
Amazon Relational Database Services (RDS) provides cost effective, scalable capacity while managing all those labor-intensive database admin jobs. This RDS allows you to choose from familiar database engines such as Amazon Aurora, Oracle and Microsoft SQL Server.
Amazon Simple Storage Service (Amazon S3) offers secure, scalable object storage with a web service interface to store and retrieve any amount of data from anywhere on the web. You can choose from several levels of storage.
AWS Snowball provides a simple, fast, secure, affordable solution for moving petabyte-scale data in and out of the cloud.
Integrated Networking
You want a single environment for your business IT which means a common network for both on-premises and cloud resources. AWS can simply extend your on-prem network configuration into your VPNs in the cloud so they act as part of your existing network. Have a look at:
Amazon Virtual Private Cloud (Amazon VPC) lets you launch AWS resources into a virtual network that you define. Your control includes selecting your own IP address, creating subnet and configuring route tables and network gateways.
Amazon Direct Connect lets you establish private connectivity between AWS and your local network.
Integrated Identity and Access
A strategy for single identity and access works well with integrated networks. With AWS, you can create nuanced individual and group permissions for access. You can even connect an existing on-prem Microsoft Activity Directory with AWS resources. Find out more:
AWS Identify and Access Management (IAM) grants access to AWS Management Console and APIs using your existing identity system.
AWS Directory Service is designed to allow your directory-aware workloads and AWS resources to use the managed Active Directory in the AWS Cloud.
Integrated Resource and Deployment Management
You need to integrate the deployment and management of applications across on-premises and cloud environments. An excellent hybrid solution is VMWare based workloads run on the AWS Cloud. Here are the options:
VMWare Cloud on AWS is a completely managed VMWare environment that allows you to decide to access hourly, on-demand or by subscription.
AWSOpsWorks is a configuration management services to support your work both on-premises and in the AWS Cloud.
AWS CodeDeploy automates code deployments so you can easily release new features, update current ones, all while avoiding downtime.
Amazon EC2 Run Command allows you to manage servers and VMs remotely and securely both in your data center and in the cloud.
Integrated Devices and Edge Systems
Not all your data is at headquarters, is it? Perhaps you have mobile units, remote worksites and even Internet of Things devices all generating data that must be processed.
AWS Greengrass software provides security for data collected, messaged and stored in connected devices. The devices can talk to each other, even if not connected on the internet.
AWS Snowball Edge is designed to move large amounts of data into and out of AWS. It connects to existing apps and infrastructure, making sure apps run even when they cannot access the cloud.
Digital6 Technologies will support you making decisions about AWS hybrid cloud services that are best for your business, taking responsibility for deploying the solutions and training your employees.
Are you feeling overwhelmed by the volume of data your business needs? Are you reaching the capacity of your current IT system?
It sounds as if it is time to move at least some of your data and other business information files to the cloud to ensure business data security, productivity and cost effectiveness.
Deploying a hybrid cloud solution for a small to mid-sized business is best accomplished with a third party IT specialist who understands the challenges and can provide the right information and tools.
The Digital6 Technologies team is ready to work with you to:
Assess your business needs
Develop and implement a plan for a hybrid cloud solution
Recommend and install the best tools
Provide user training
Provide ongoing support and monitoring
Not sure where to Start? Contact One of Our Solutions Specialist.