Is #hybridwork in your public organization's digital plans? It is for the private companies you're competing with for talent. Contact Digital6 Technologies to learn how @CitrixWorkspace speeds hybrid work strategies.
August 29, 2022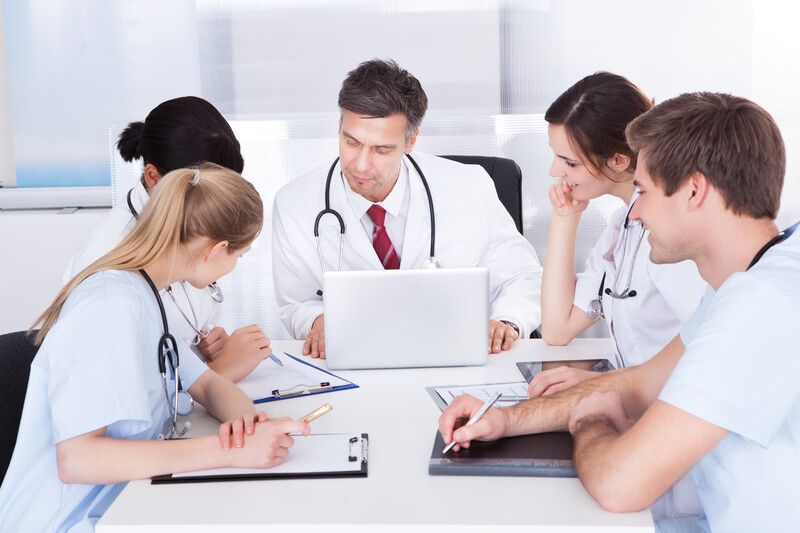 Why Healthcare Needs UCaaS Solutions for Better Collaboration
August 29, 2022
Answering the Call: Are Your Healthcare Communications Ready?
The new paradigm isn't coming – it's already here.
Across North America, caller volume to hospitals, clinics, and health services lines is spiking to record highs. The influx exceeds most estimates, often overwhelming available resources and causing long wait times, unanswered calls, and frustrated patients.
As many healthcare providers are quickly reconfiguring their communications to address the new normal, three factors have emerged as requirements for success. Fortunately, it's possible to realize all three in as little as 72 hours, with a "remote-enabled" contact center practice.
Must-have factors for healthcare communications
Automate your outreach – to control volume and enhance patient experience, set up systems that automatically reach out to your patients and stakeholders. This practice drives higher patient satisfaction and reduces inbound calls to your staff.
Leave no patient unanswered – when patients call your facility and the volume becomes too high for staff to answer all inquiries, you have options. Prioritize inquiries using queues, answer common questions using interactive voice response (IVR), and modulate volume to more reasonable levels. This solution is good for patient and employee satisfaction.
Scale for spikes, with built-in flexibility – when forecasting demand becomes difficult or impossible, the best path to adaptation is building rapid scalability and flexibility into your communications systems. When the inevitable surge arrives, you'll already be prepared.
All of these are equally important, so let's take a closer look at each to see how to set them up for success.
Automate Your Outreach

The Los Angeles County Department of Health Services – the second-largest municipal health care system in the U.S., with a budget of over $4 billion – engaged Digital6 Technologies to help meet the challenge of patients missing appointments, needing reminders, and being kept up to speed.
Historically, these functions might have been performed by several different teams, using disparate software suites. Instead, the Digital6 Technologies Contact Center solution provided outreach capabilities, campaign creation, and reporting – all from a single interface.
At this scale, broken appointment (BA) rates are crucial. Since the Dynamic Notifications feature was implemented, the organization has achieved a 73.7% improvement over baseline. 83% of respondents recalled getting a reminder notice, and 97% reported that the feature was helpful. Automated outreach can reduce call volume significantly by answering common questions at the right time, eliminating the need for inbound calls.
Leave no Patient Unanswered

Another means of reducing peak loads on healthcare communications is resolving existing inquiries more quickly and efficiently. Features like skills-based routing and geo-routing help get callers to the right expert at the right time, automatically – and help prioritize inquiries when staff bandwidth is limited.
Queues receive patient and stakeholder inquiries and hold them in sequence until an agent is ready to field the next interaction. Inquiries are not limited to phone calls – other common communication modes include chat, email, SMS, and even social media, helping you meet patient preferences. In addition, queues allow for higher numbers of concurrent inquiries while still keeping workloads manageable.
Queues are even more effective when combined with interactive voice response (IVR) services. Well-designed IVRs can significantly reduce demand on contact center agents, while enhancing patient experience and improving overall outcomes. IVR services can handle everything from receiving and "triaging" calls, to reading out updates on rapidly changing situations, to automating self-service tasks like requesting transcripts.
You can also set wait time thresholds for your contact center; once the threshold is exceeded, the caller is given the choice to receive a "callback." As the term suggests, callbacks involve an agent returning the call once they become available – but the caller's original place in line is retained. This method respects patients' time while ensuring fairness.
Scaling for Spikes
Particularly in the healthcare industry where unpredictable broad-based emergencies may spike call volumes exactly when patients need your support the most, a communications system that can scale quickly is vital for meeting expectations.
The solution is to build and plan not only for specific demand levels, but for adaptability and rapid scaling as a standard operating mode. Contact Center as a Service (CCaaS) technology is ideally positioned to help you meet the challenge. Here is a recent real-world example.
Recently, a leading public health line experienced an unanticipated flood of inquiries that temporarily overloaded resources. Immediately after the state government announced presumptive new cases of infection, the telehealth service was flooded by a record volume of calls. Residents calling in began to receive busy signals, compounding the existing concern and confusion.
However, the organization was able to rapidly address the situation. In the span of about 72 hours – and during a weekend – Digital6 Technologies was able to complete the upgrade request and expand capacity by hundreds of seats, with no on-site visits or equipment installations needed. By Monday morning, the capacity of this health line to meet radically escalated call volume had been not only restored but greatly multiplied.
Contact centers built on CCaaS offer the ability to add seats on very short notice, compared to on-premise traditional models. On-premise systems typically require substantial lead time for moves, adds, and changes: telephone line capacity must be added to the organization's premises, the on-site equipment needs to be modified or updated, connections must be run to the various agent workstations, and more. It's also worth noting that changes and maintenance typically require a third party to perform the work, further inflating lead and response times – not to mention costs.
In contrast, CCaaS is built on cloud infrastructure. Adding additional capacity requires the provider to simply increase the number of licences, users, or "seats" based on the customer's requirements – typically done via a browser-based control panel.
As a further safeguard, the organization's new contact center plan offers "bursting" or elastic demand capacity. In a scenario where inbound volume suddenly exceeds normal metrics, the number of connections allowed will automatically scale up, accommodating as much as 50% increased capacity with no intervention required.
100% remotely deployable in as little as 72 hours
Successful deployment of a contact center solution can be accomplished remotely in as little as 72 hours. Also, whether receiving calls or sending reminder campaigns, agents themselves can work entirely remotely, respecting distancing guidelines and staying healthy and productive. With multiple connectivity options ranging from browser-based clients to desktop phones to smartphone apps, CCaaS requires only a phone endpoint (physical or software) and a reliable Internet connection.
Remote-enabled content centers also make it simple to deploy, train, and support your agents – on any aspect of the software, from basic call handling to multi-channel outreach.
While rapidly changing situations may make for an unpredictable future, some factors are still within your control. Perhaps the best response to uncertainty is being certain that your healthcare communications are prepared for the new paradigm. The Digital6 Technologies Contact Center team can deliver that certainty – contact us today for details.