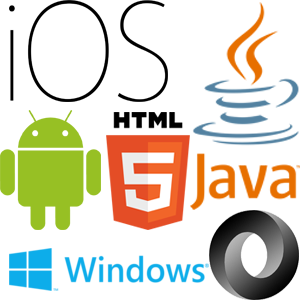 Digital6 has extensive expertise in custom mobile application software development and has vast experience in developing Mobile Applications across diverse platforms and devices using latest techniques for all major platforms which include iPhone, Android, Kindle Fire and others. Our solutions on all the major handheld and Smartphone platforms help our clients achieve a faster time to market with an unmatched cost advantage. We follow the highest standards in the industry for engineering process, product quality, delivery and support.
Custom Mobile App Development
At Digital6, we have helped many clients deploy apps to every major smartphone platform. We have developers and designers who specialize in iOS (iPhone/iPad), Android, Windows Phone, and HTML5. No matter what platform you want to build your smartphone app for, Digital6 has you covered. Do you need your app to integrate with your current database of website application? We can help – see our mobile solutions page.
Mobile App Experts
Let Digital6 help you find the best way to design, develop, and deploy your app. Our US based team have the expertise and experience to be able to guide your smartphone app development process from start to finish. At Digital6, we take mobile development very seriously and will come to your business location to discuss, layout and plan your needs in full detail. We want to make sure your mobile app will be built to meet your current needs and built to facilitate future needs. This is very important when you want to add new features, cross platforms, or make updates down the road.
Your mobile strategist!
Digital6 will develop a mobility strategy with an architecture that provides an end-to-end enterprise mobility solution for your business. One of our core competencies is versatility. Whatever your needs may be, our highly skilled diverse team of software engineers, designers, and testers who specialize in every major software development platform available will make your software dreams a reality.
Call us today today – (866) 515-4687