10 Reasons Why You Should Use Magento for Your E-commerce Website
April 23, 2014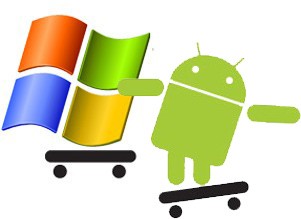 Android Revolution – Is this the End of Windows CE?
December 8, 2014
Worldwide B2C e-commerce sales are expected to grow by as much as 20.1% percent this year and hit the $ 1.5 trillion mark!
Nearly one-third of the total human population on our planet is on the Internet.
If you're an internet entrepreneur or intend to create a new product or service, the timing perhaps could never be so right!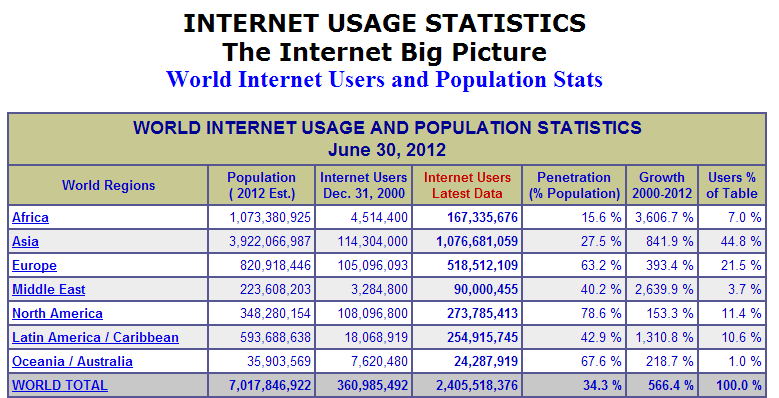 Ecommerce is on the rise and Every Day till the time your target market appears saturated is your Lucky Day if you're ready to pour in what it takes – technical expertise, sweat, strategy and most importantly – a solution for a well-known or perceived need.
640TB data is transmitted on the World Wide Web
100k Tweets are Posted out
Google answers (or attempts to) around 2 million queries
YouTube serves around 1.3 million videos
Times have changed for sure! If you were born in 1970s or 1980s, you almost certainly know how much!
The ongoing ecommerce revolution is here to alter the world we know. And it's just the beginning.
It's just been around a little over a decade since businesses actually began 'selling' products and services on the Internet. Electronic Data Interchange (EDI) and Electronic Funds Transfer (EFT) were actually the enabling technologies in 1970s and 1980s that paved way for teleshopping, quickly followed by electronic shopping.
Two decades hence, ecommerce is taking center stage. According to a report released by YStats.com, the global B2C eCommerce sales are expected to cross the $1.500 trillion mark. That's an annual 20.1% growth. Not bad.
Here's a quick wrap-up on the performance and growth statistics of worldwide ecommerce markets:
North America Moving Forward: Highest Internet Penetration in the World
The North American ecommerce market comprises of only a handful of countries but it accounts for as much as one third of the worldwide e-retail sales today. In 2011, North American B2C ecommerce sales accounted for 35.9% of global sales!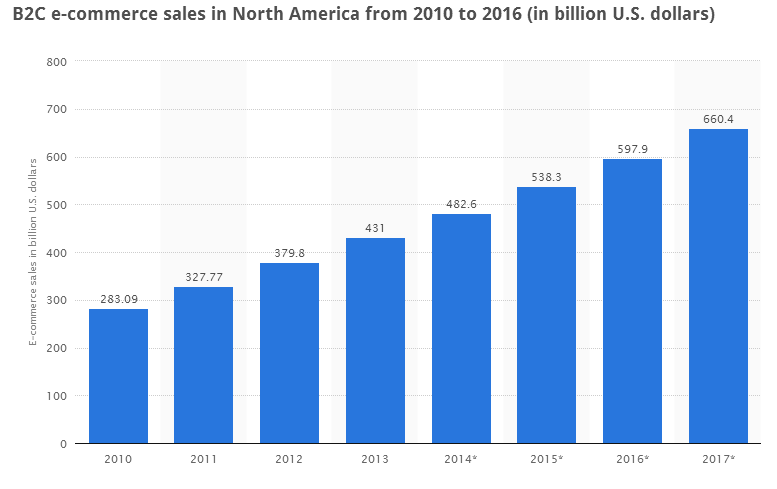 Market Size in 2010: $283.09 Billion
Projected Market Size in 2016: $597.9 Billion
Latin America, Brazil Are Experiencing Quick Growth
With growing internet penetration, ecommerce in Brazil, Chile, Colombia and Mexico has been growing at a rapid pace for the last few years.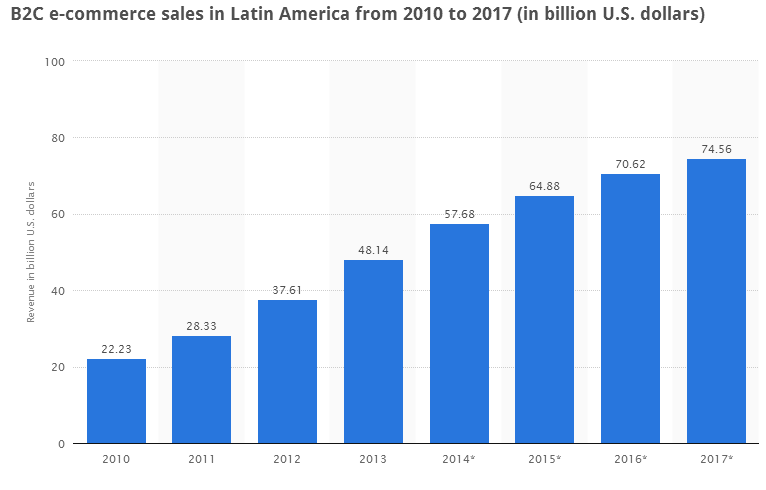 Since regions such as Brazil witnessed quick and explosive e-commerce growth during the yesteryears, (resulting from a high internet penetration), they are likely to experience declined year-on-year growth rates over the next few years. Countries such as Columbia in the Latin America ecommerce market, however, are likely to witness a positive year-on-year growth.
B2C Ecommerce Sales (2011): $28.33 Billion
Projected B2C Ecommerce Sales (2016): $70.6 Billion
By 2015, 40% of the people in Latin America are expected to shop online.
Western Europe: Developed Regions Will Experience Slower Growth Rates
Developed countries in Western Europe will experience slower ecommerce growth rates as a significant fraction of the total population has already begun to shop online; around 75% of the French population, for example, has already availed online travel booking services.
Italy and Germany witnessed double digit growth rate in yesteryears but the growth rate is set to decline. In all of Western Europe (including UK, Germany, Italy, Spain and France), Amazon, Tesco, Ergo, IKEA and travel service portals lead the fray.
EstimatedB2C Ecommerce Sales in Western Europe (2015): $374.5 Billion (Source)
Eastern Europe: Russia Steering Forward
In all of Europe, Russia has the highest number of internet users but so far, the region has recorded single digit e-commerce growth rate. Russia (mass merchants and food & drug retail), Czech Republic (tickets and clothes & footwear), Poland (group shopping and price comparison portals) and Turkey (mass merchants and consumer electronics) in Eastern Europe are expected to record a higher e-commerce growth rates in coming years.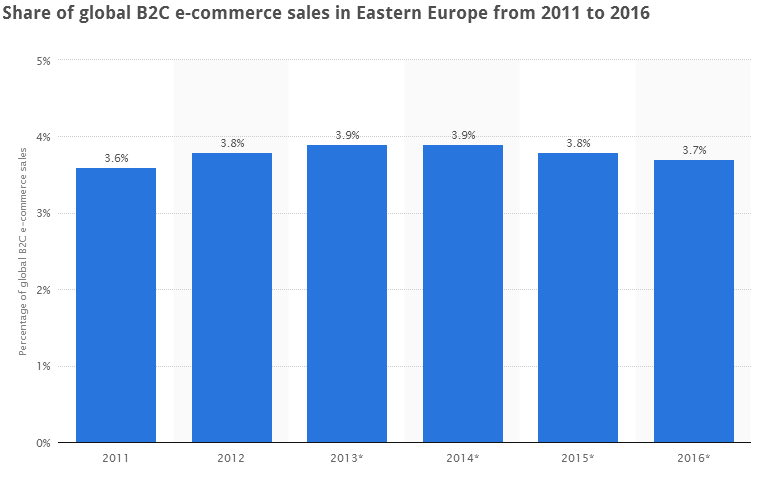 Asia Pacific E-Commerce Market
While developed economies such as Japan are expected to experience declining growth rate, China and India in Asia Pacific e-Commerce Market are likely to experience explosive growth in near future. Both India and China are expected to record double digit e-commerce growth in the next 2-3 years. Ecommerce Australia, Japan and South Korea has taken off already with millions making travel reservations, buying books and apparels, drugs etc. online.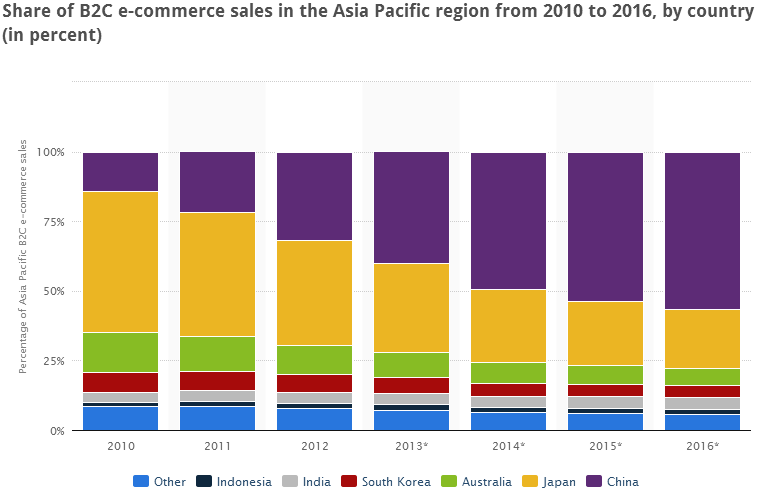 According to e-Marketer, Asia Pacific is expected to account for as many as 46% of all digital buyers in the world. Interestingly, these would be just about 16% of the total population in this region.  The growth in Asia Pacific ecommerce market is largely driven by the large populations coming online for the first time!
Ecommerce in Middle East and Africa
Internet usage in Saudi Arabia, UAE, Egypt, Morocco and Nigeria has increased quite a lot. More people are shopping online at regional sites with debit/credit cards. The report by Y-Stats suggests that ecommerce in all of South Africa and Middle East is set to increase a great deal with many countries recording double digit growth.
With a mature and well-developed market, North America has for long been the front runner in worldwide ecommerce market. Now, the worldwide total of this market is declining as markets in Asia Pacific and Middle East & South Africa slowly rise up to the occasion.